Saint Peter's Church, Chalvey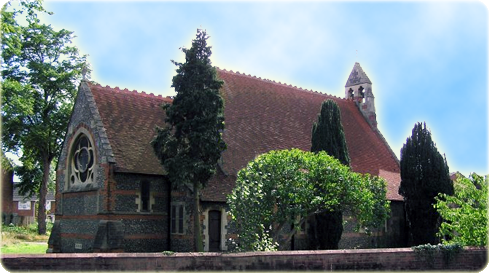 Our Story
St. Peter's Church, in Church Street, Chalvey, is celebrating its 150th anniversary this year (2011). It is one of Slough's oldest remaining buildings and has a grade 2* listing.

It was consecrated on September 7th 1861 by Bishop Samual Wilberforce of Oxford. Apart from a small vestry at the southwest end, no other additions have been made.

The church was built as a result of a petition by the citizens of the village of Chalvey, presented to the Bishop in 1855, requesting permission for a church for the local community, because 'our little place is so small that it do not afford sufficient space for our congregation'. At that time a small infant school (near to where The Keys public house stood) was used for services.

The petition attracted support from many local people, who contributed to the cost over the next 10 years. Queen Victoria, who would have been able to see the village from windsor castle, donated £100 - a substantial sum for that time.

St. Peter's was designed by the architect George Street and built by local stonemasons. It is a fine example of Victorian craftmanship and contains windows by the famous stained glass artist, Charles Eamer Kempe.

The church still serves its local Christian community and the wider town of Slough, with services each Sunday and Wednesday at 9.30am.
Links


Website for St. Peter's

Location of St. Peter's Church